Yet more stashbusting going on here.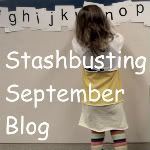 My mother in law picked up this doll cradle at an antique store. A cute design but it was in a pitiful shape. Like most things you pick out in antique stores, it was dirty, dusty, a bit smelly (ugh) and in dire need of some TLC before it could be played with.
After good scrubbing, years of dirt and grime off, it already looks happier!
Primer and paint - I have to go through my stash of spray paint !!
Much better already!
Then I found some coordinating lavender fabrics in my stash and a bit of lace to make some new bedding: Mattress, pillow and comforter
I used the old fabric liners as pattern and some left over sheer curtain cloth and satin blanket binding for the bows:
So there is the before and after
And another one
Needless to say the cradle was immediately adopted by my little bug. Evidently, it's just the right size for her beloved doll Princess Fiona.