Have you ever noticed most of the tissue box covers you find at those home decoration store are meant for the small square tissue boxes? And how expensive they are! We are a heavy duty house in this department between little runny noses and allergies.
I know you can find some pretty(ish) tissue boxes in larger format but this doesn't quite do it for me. So to start my
stashbusting challenge
and make something useful and pretty for my house, I decided to make a few fabric tissue box covers.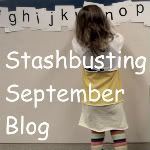 This project was also featured @
For this project you will need:
- Fabric scraps - It takes less than 1/4 yard
- 1 short piece of coordinating bias tape
- Matching thread
- Elastic band
- Sewing machine
- Measuring tape
- Tissue box of your brand of choice for measurements and fitting
Cut a piece for fabric using your tissue box for size and leaving 1/4 inch for sewing allowance
Cut or piece a strip of fabric measuring the height of your box + 1 /12 inch by the perimeter of your box + 1/2 inch
Mark a circle in the center of the fabric for the top (I used a soda can)
Cut the circle out and apply coordinating bias tape to finish the edge
Sew together the short edges of the strip of fabric for the sides (1/4 inch allowance)
Sew the top piece with the edge piece (1/4 inch allowance)
Rotate the fabric 90 degrees at each corner and re-align the top piece and edge piece after each quarter turn.
Fold over and stitch the bottom edge an run the elastic band in the channel
Of course I'm going to need more than one.
I couldn't get myself to cut a hole in this pretty Provence fabric so I ended up piecing in a way that I could leave an open slot on the top to pull the tissues out