As I mentioned in a previous post, I have entered the September stashbusting challenge hosted by Robin from "the T-Shirt Diaries".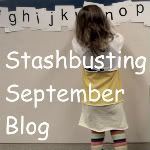 If you are interested in joining, hop over to Robin's blog and enter the
linky party
I'm committed. No purchase of any supplies until the end of September. I'm excited to meet the challenge. I've started looking at things around the house that are in need of a makeover/re-appropriation campaign. My head bubbling with ideas already. The main objective: give old things a new life. Upcycling is good for your wallet and good for our little planet so go for it. I'm ready.
September here I come!!