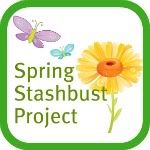 Do you have a favorite sweater you wear over and over and over. I do. The thing with well loved sweaters is they end up with pulled yarn or worse a hole. When I found a big gaping hole in the sleeve of my favorite black jacket I was sad. My knitting/crochet skills are totally insufficient. Who am I kidding: I can't knit beyond the absolute basic. SO I put my beloved jacket away at the bottom of my "to mend" basket, not quite ready to say goodbye but still thinking there was no way I could fix it. Or was there?
I decided that I had to take a chance with what I knew best: sewing. So here is the rescued jacket:
No before pictures of the "victim" but this is the same model in cream to show you how it looked.
Not a great pic sorry but it gives the general idea
Since it is a cotton yarn therefore a spring jacket, I clipped the sleeves just above the elbows. Then I used a blanket stitch to finish the edge of the sleeves with a satin blanket binding ribbon from my stash. While I was sewing the binding on, I stretched the knit to give it this lettuce finish. Then I added the same binding to the bottom hem.