I found this
cute bunny
on Janome's webpage and I had to make one. No flannel in my stash so I had to improvise with some white fabric. I think it turned out so adorable.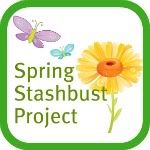 Then I tried to make another one out of a torn pink t-shirt. Can you believe the same pattern can give such different results just by changing the material used?
If I were not currently stashbusting, I would have dashed to a craft store to get some embroidery floss but I dug up buttons for the nose and used fabric markers for the white bunny, and regular thread for the pink one.
I'm expecting both bunnies to be snagged by my little bug as soon as she lays eyes on them.
PS: My laptop is still out of commission so I'msing the family computer as backup. I only have access to my emails from my iPhone so sorry If I haven't responded to comments lately. Hoping to have a functional computer next weekend