Do you know Robin from the
T-Shirt Diaries
? Robin is all about green crafting: reuse, recycle, upcycle are the way of her eco-friendly blog. Last fall, she organized a stashbusting challenge. 61 crafty bloggers signed up and pledged to follow the
rules
of: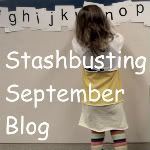 One month of crafting without shopping/hoarding.


Stashbusting is back
OK the rules are not as tight as the previous edition: you can replenish the basics like hot glue and Modge Podge. That cute layer cake or the themed stack of scrapbook paper, not so much. AH! Well I know I've been better about my craft supplies since the September edition but I definitely can give my stash another diet.
So I signed up again.
From March 22nd to April 22nd, I'll be busting my stash
Let's face it: it's time for spring cleaning the house including your closets, basement, sewing room or studio.
Are you going to join in ?Are you going to bust some stash?
Check out all the details and sign up here
and don't forget to go check my guest post @
on how to makeover your ironing board