There is a special place for Australia in my heart. I spent 3 months of pure bliss there, the adventure of a lifetime, backpacking with an open ticket in my pocket. I came back, the head filled of images to last me a lifetime. I was so terribly saddened to see the pain and destructions caused by the massive floods there. Many lost everything.
I just found out a lot of great Aussie craft bloggers lead by
Toni Coward
are
hosting auctions and raffles to help raise money for the flood relief fund.
It's a bit late for me to join the auctions which will end January 24th but it's not too late to help.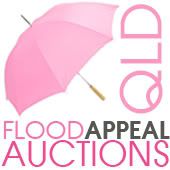 My blog readership is tiny for such a great need but I'm hoping some of you will take the time to check out the

auction list

and bid on the

gorgeous handmade item

that are being donated for this worthy cause or buy a "ticket" for a raffled item. Most will ship worldwide.
Publish Post