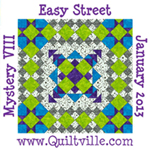 Well I did it... finished the top of my iteration of Easy Street. I must say I surprised myself for managing this project that was way out of my comfort zone and I'm glad I did
I learned a LOT: piecing technique, chain piecing, cutting, assembling. The one thing I could not do is 'scrappy'. It goes completely against my OCD tendencies. There are a few different whites, yellows, pinks and greys but no, this quilt is not really scrappy. I still absolutely love it and can't wait to have it finished so I can have it on my bed.
Here are the block all finished before the final assembly
Of course there have been a couple of oopsies and some quality time with the seam ripper
I had the help of Her Evilness, my quality control assistant
And here it is .. Saturday night, on my bed
Then of course the usual agony over the borders
And the final result after some quilty 'math' to figure out the perfect size form my checkers border
100"x100" of retro bliss
Go check out the glorious iterations made by the other mystery followers
here
UPDATE
I got some daylight pictures today (01/08/2012) and noticed a piecing mistake ...Another date with my seam ripper tonight !